Pastors – Does Your Church Have Hidden Problems?
I would like to talk about why churches often don't invest much time working on their marriage ministry.
What? That seems odd. According to a research study conducted by LifeWay Research and Focus on the Family, 75% of pastors agree that their church provides enough help for married couples. Yet, 69% of churches do not have an ongoing marriage ministry. What's the disconnect?
Pastors are often in a tough spot. Pastors get hit on with a lot of great ideas and worthwhile causes. There's a lot of things they could be doing.
I was on the board of directors of a church for about 10 years. We had about 300 weekly attendees, but marriage ministry wasn't a priority. Let me explain a couple of reasons why.
Marriage Ministry Challenge #1 : Many Pastors Aren't Gifted or Called to Work with Couples
I know a number pastors that are very gifted in counseling couples. They feel that this is a calling for them and they are really good at it. But, there are also a number of pastors that don't feel called to counseling and they don't enjoy it. They are more gifted in preaching and teaching. That's OK, but it's a reality.
When it comes to counseling, they are not very comfortable. They do have empathy and they try, but it's not their strong suit.
Marriage Ministry Challenge #2: Distressed Couples Don't Ask for Help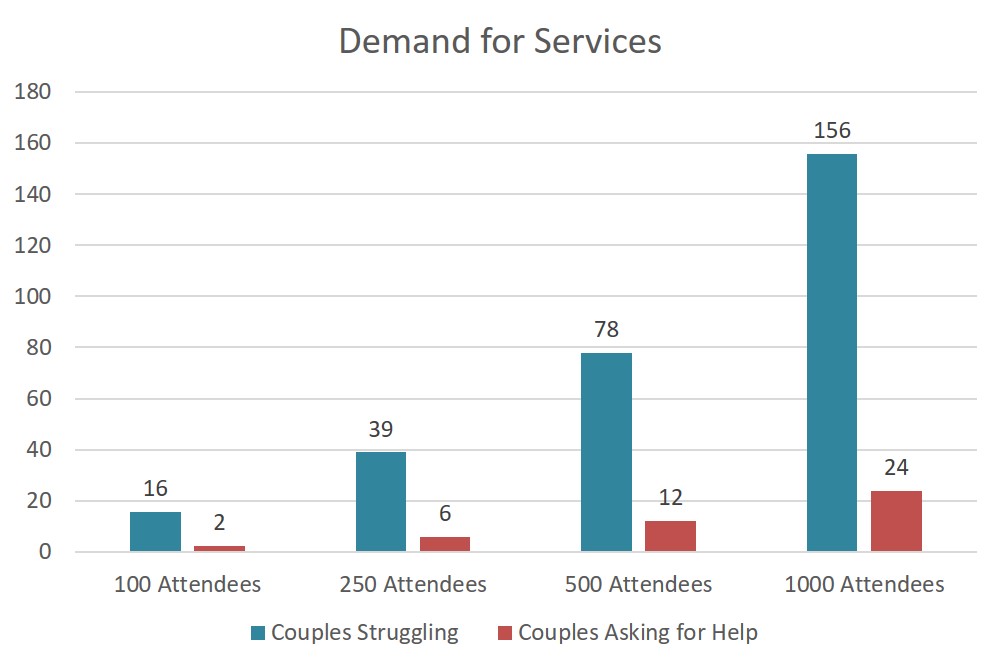 The bigger challenge is that couples just don't ask for much help. The research from LifeWay/Focus on the Family found that for every 41 people 1 couple will approach a pastor this year with marriage problems.
That means that in my church of 300 people, we would get 6 or 7 couples every year. If you look at the graph, you'll see the number of struggling couples versus the number asking for help. That is a fraction of the couples that are actually struggling.
But, from the perspective of the church, not many couples are asking for help.
Church Board Conclusion
When I was on the church board, we would look at those challenges and conclude that we're not very equipped and there's only 6 or 7 couples. This compares to the 300 adults and children attending every Sunday. Prioritizing this is a no brainer. Let's work where we have the most impact.
Impact of Divorce on the Church
One time I was surprised when I found out that a leadership couple in our church was getting a divorce. I didn't see that coming. What happened? I felt heartbroken for the couple and their kids. I began to question what we were doing. Could we have done more?
Divorce has an impact on the church. Usually, one, if not both, of the people leave the church. Often, giving drops. Relationships are fractured. It may even hurt the reputation of the church.
3 Things That Help Couples, But Don't Take Up Resources
1. Find a Couple that You Trust to Help
This is how my wife and I got involved in marriage ministry. The pastor asked us if we'd like to. We didn't know what we were doing. But, we gave it a try. Slowly, we got more experience and we figured it out.
2. Find Some Marriage Education Curriculum
When we started, we found some curriculum. Don't leave them up in the air. It's just too overwhelming. My experience is that there is great pre-marriage material out there, but not much for couples in distress. That's why we created Connected Marriage.
3. Start Small
As a pastor, you know couples that are struggling. I bet one or two come to mind. Refer those couples. It doesn't take a big roll out. It doesn't take a sermon series. There doesn't have to be a isn't a big program. You don't even need to have a small group, unless you want one. All of those things are great, but let your couple gain some experience. Then, you can consider how to expand it.
The important thing is to get started. Start to do something!
If you like this blog post, download the free report for more statistics and information!
Your church's huge opportunity and how to get started 
Sources:
LifeWay Research Study, 2015, "Marriage Ministry and the Cost of Divorce for Churches"
I calculated the number of couples in the US as a percentage of the population from data by www.statista.com.
The percentage of couples struggling came from Olson, D. H., Olson-Sigg, A., & Larson, P. J. (2008). The couple checkup. Nashville, TN: Thomas Nelson. Pages 24-28.